who came from Belgium to ride the Sportful Dolomiti Race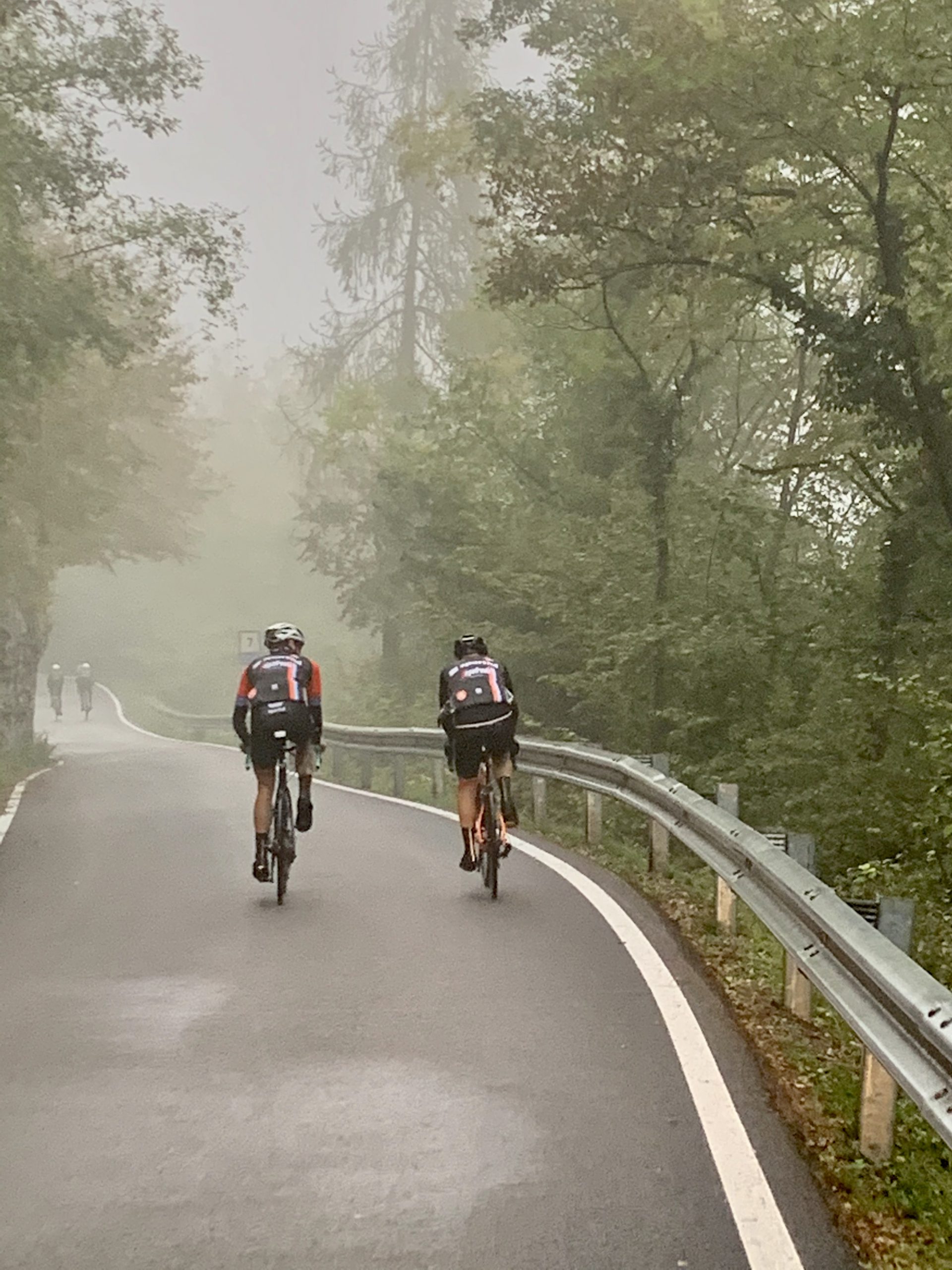 Seven Italian granfondos in seven days: "Rennaissance" is the journey of the journalists from the Belgian cycling magazine Grinta!who wanted to ride the routes of the most important amateur cycling events on the Italian scene — all canceled due to the pandemic— by themselves. A gesture of solidarity but also a message of hope looking to the future. "We're recounting our journey on our social channels, but then we'll do it in the print magazine, telling about an experience as well as the event and the areas we rode through," explained publisher Frederik Backelandt.
With him in Feltre was his colleague Lorenzo Derycke, a former amateur in Belgium with the blood of a champion in his veins. His grandfather Germain came second at the world championships in Lugano, Switzerland, in 1953, behind the great champion Fausto Coppi, but won Paris-Roubaix in 1953, La Flèche Wallonne in 1954, Milan–San Remo in 1955, Liège-Bastogne-Liège in 1957 and the Tour of Flanders in 1958.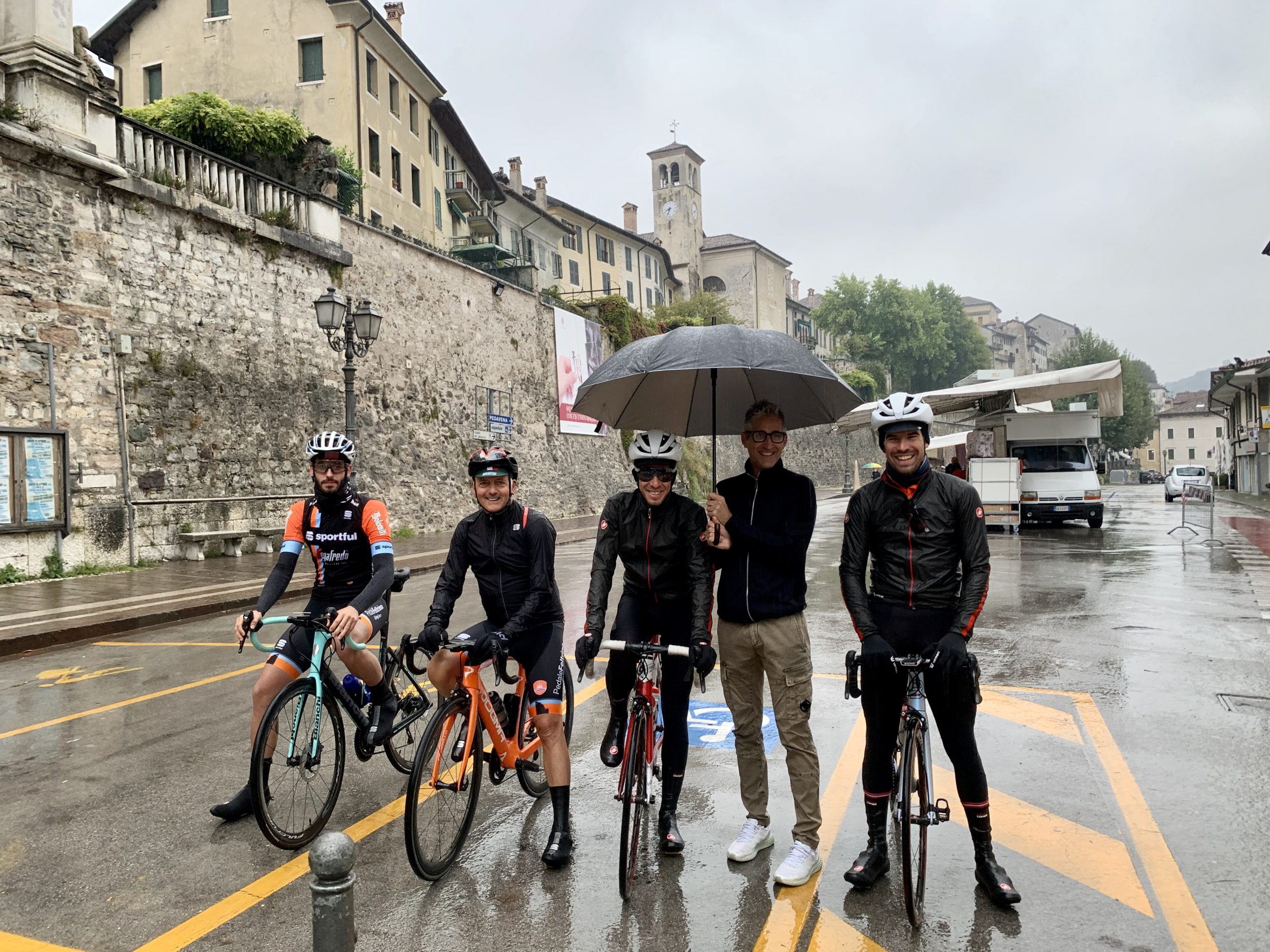 The two Belgians wanted to recreatethe Feltre granfondo exactly, starting from Via Campogiorgio and following the race route. Due to bad weather and snow at high elevations, it was impossible to ride the long course with Manghen and Rolle, so the two completed the 122 kilometers and 3,200 meters of elevation gain of the Medio route, accompanied on the first part of the ride by President Piol and Chrstian Maeran of Pedale Feltrino.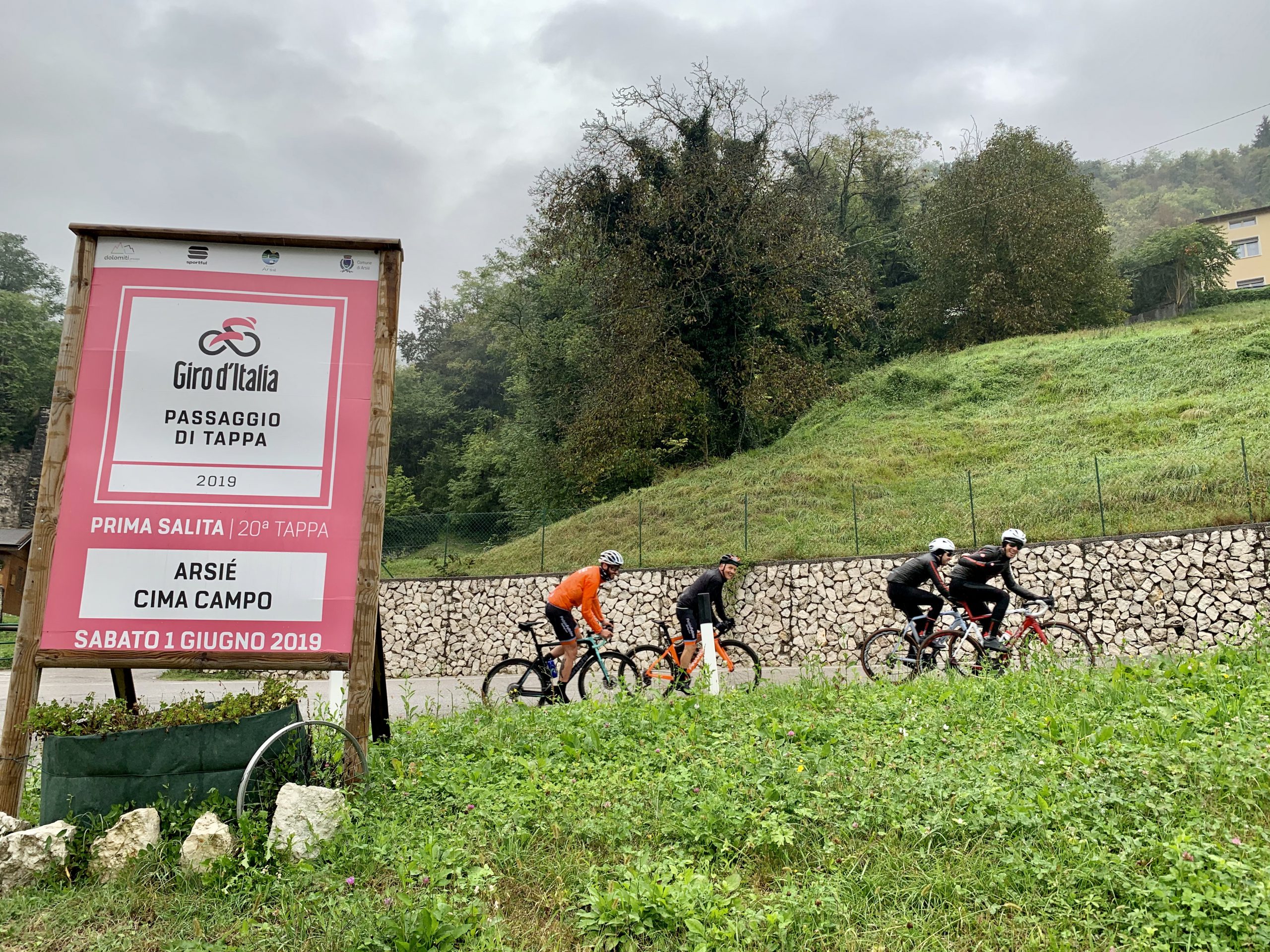 The Feltre granfondo has lived up to its reputation of being a difficult challenge not only because of the steep climbs but also because of the often-inclement weather. On the climb to Cima Campo, the cyclists found themselves shrouded in thick fog and rain from the first kilometers in Arsiè; then they descended to Castel Tesino and Pieve Tesino and climbed up to Passo Broccon passing through Val Malene and returned to the province of Belluno through Roa.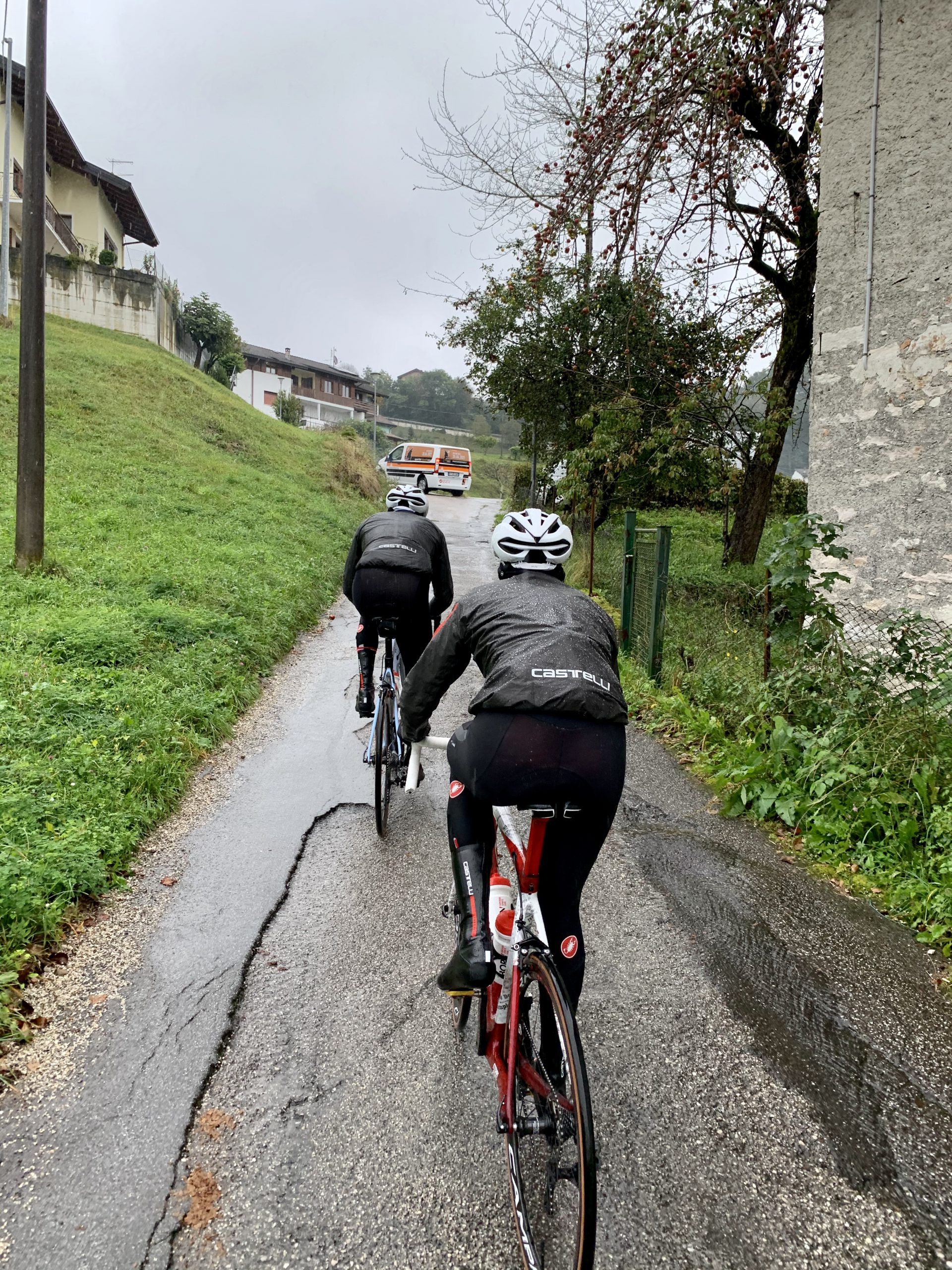 The two experienced the cruel gradient of the Ronche-Rugna wall in Lamon and after a short descent began climbing again to conquer Passo Croce d'Aune (in the wind, rain and fog) and document the achievement with a photo in front of the monument to Tullio Campagnolo. Backelandt and Derycke were determined to reach Feltre and cross the imaginary finish line in Piazza Maggiore, where the president of the Sportful Dolomiti Race, Ivan Piol, was waiting for them and presented them with the finisher medals.
"You are the two finishers of this year," Piol told them, welcoming them with the medals. "You have completed your Renaissance, and we thank you for coming and riding in these conditions in order to bring your message of hope and positivity."
"The weather is bad but I'm happy to be here," said the publisher of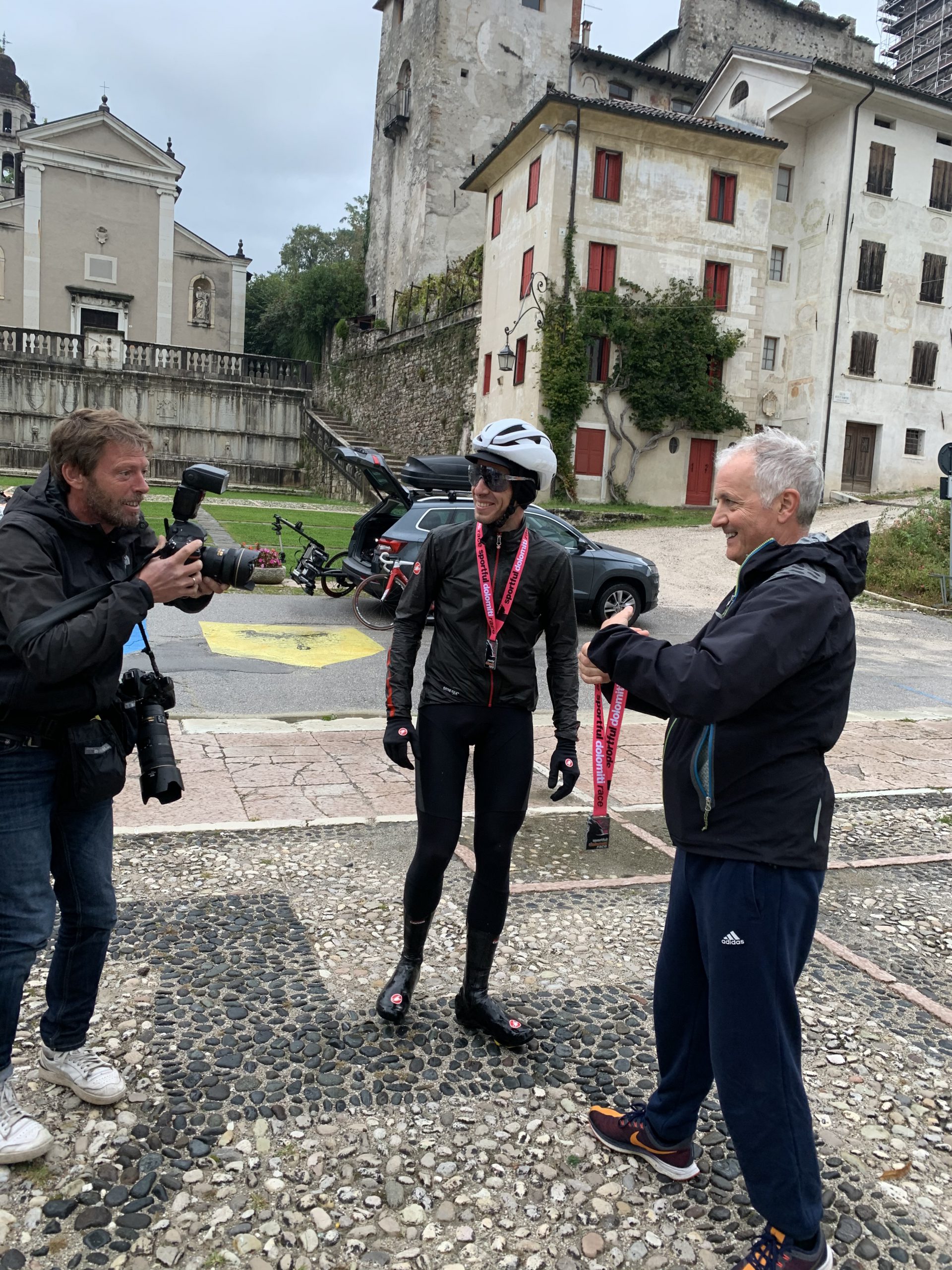 Grinta! at the finish. "I think the Sportful Dolomiti Race is a very important part of our seven-granfondo project. We still have two to go [yesterday they were in Corvara – ed.], but we hope 2021 will be better than this year."