Participants include 557 foreign riders from 33 countries
After the crazy success (to use Jovanotti's words) of the Castelli24h, Feltre is preparing for a new invasion of cyclists. The 28th edition of the Sportful Dolomiti Race will be characterized by the different pace of this long-distance challenge, a different race route and participants from different countries. The granfondo, organized again by Pedale Feltrino and directed by Ivan Piol, will start at 7 a.m. on Sunday, June 18.
The organizing committee is finalizing the last details of the event that offers two routes to amateur cyclists: the 204 km Gran Fondo, with nearly 5,000 m of total elevation gain, climbing Cima Campo, Passo Manghen, Passo Rolle and Passo Croce d'Aune, and the 121 km Medio Fondo, with 3,000 m of total elevation gain, climbing Cima Campo,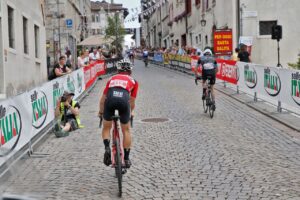 Passo Broccon from Val Malene and Passo Croce d'Aune — with the finish for everyone in Piazza Maggiore, in the historic heart of Feltre, at the top of a 450 m climb on cobblestones.
The riders will come from all over the world — from 33 countries, to be precise; 557 participants will be foreigners, the majority from Europe. The largest groups are from Germany, the Netherlands, Belgium, and Denmark, but cyclists will also come from Hungary, Norway, the United States, Australia, Singapore, New Zealand, the United Arab Emirates, Kazakhstan and Colombia. It's a mostly male granfondo, with only 200 women taking on the challenge.
The goal is to climb the Belluno Dolomites, which in 2019 hosted the penultimate stage of the Giro d'Italia — the decisive stage, and the one that attracted the most spectators, both along the roads and on TV. All within 12 hours and 30 minutes, the maximum time limit established by the organizers. The last cyclist is expected at 7:30 p.m. on Sunday in Piazza Maggiore. And as usual, the entire organizing committee and Dario Cremonese of Sportful will be at the finish line to award the Maglia Nera, one of the most coveted prizes among granfondo riders.